Concert Series
OSLC Concert Series 2017-2018 Season
Our past seasons have included a broad variety of musical offerings: voice recitals, piano recitals, world premieres of commissioned music, various instrumentalists, major choral works, handbell soloists and ensembles, and holiday music. All concerts are wonderful for families. Click here for more information about this year's season.
If you would like to join our concert mailing list, email Martin Morley at martin@oslc.net - this is only used to inform you of upcoming concerts. If you would like to receive information about other church events, click here.
2017-2018 Season
Sunday, October 1, 2017, 4:00 p.m.

ENSEMBLE ARI

"Ari" is a Korean word with multiple meanings: big river, wisdom, and beauty. Ensemble Ari is a group of Bay Area Korean American musicians who share this concept with their audiences. This program will include Western music by Penderecki, Bartok, Suk and Martinu, as well as Jean Ahn's fascinating "Archimedes' Principle" for piano quartet and haegeum (a traditional Korean instrument).
DAVID AUERBACH, organ
This Mighty Fortress
OSLC audience favorite David Auerbach is back! This program celebrates the 500th anniversary of the Protestant Reformation, featuring the works of Bach, Mendelssohn and American composers who arranged familiar hymn tunes in the chorale form influenced and favored by the great reformer Martin Luther.
Sunday, December 17, 2017, 4:00 pm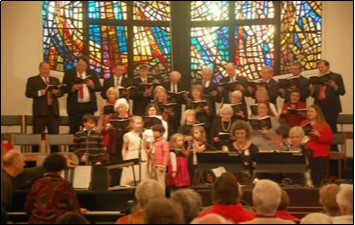 CHRISTMAS CONCERT
Angels and Shepherds and Stars, Oh My!
A wonderful musical complement to your holiday season, this annual event features the OSLC singing and ringing (handbell) choirs. This year we begin with a chorale by Bach and end with a cantata by Chicago composer Joel Raney. And between those bookends, you'll hear a festive mix of carols and anthems that will amuse and amaze!
---
Sunday, March 18, 2018, 4:00 pm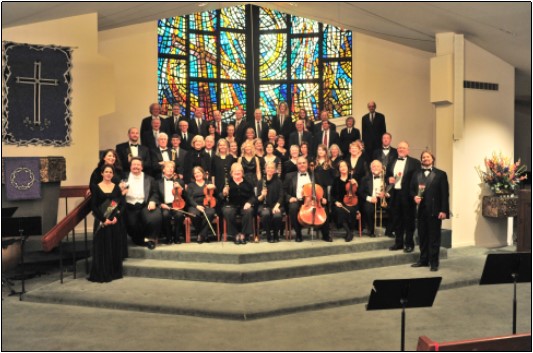 MAJOR WORKS CONCERT
The Music of John Rutter
Featuring special guests The Sanctuary Choir of Walnut Creek United Methodist Church, Carol Morris, Director.
British composer John Rutter's choral works are favorites of both church and community choirs. In this very special program, singers from OSLC and Walnut Creek UMC combine with professional instrumentalists to present several of Rutter's beloved anthems, as well as his powerful and evocative Requiem (1985). This performance will be conducted by Martin Morley. An additional performance at Walnut Creek United Methodist Church on Saturday, March 17 at 7:30 pm, will be conducted by Carol Morris.
---
Sunday, April 8, 2018, 4:00 pm
TORLEF BORSTING AND CASS PANUSKA
Great American Songs and Arias
Torlef Borsting was featured as a baritone soloist at OSLC for the Schubert Mass in G in 2017 -- now he and soprano Cass Panuska are doing a cross-country concert tour as they move to Florida -- and we are delighted to feature them in one of the send-off performances of that tour. Popular and classical song share space in this program with something for everyone. Accompanied by pianist Robert Ashens, this will be a most enjoyable afternoon of vocal treats.
---
Sunday, April 29, 2018, 4:00 pm
LINO RIVERA, piano
Altered States: Variations Through Time
We are delighted to welcome Dr. Lino Rivera back to the OSLC Concert Series. A native of the Philippines, Lino has performed as a solo recitalist, concerto soloist, and collaborative pianist on three continents. Recent solo recitals have been presented in Germany, Switzerland, Corpus Christi, Chicago and Los Angeles. A popular professor at St. Mary's College, Lino plays programs renowned for being virtuosic, educational, and above all, entertaining!